I asked my wife if she wanted a classic red tomato sweet-tangy sauce for barbecue, and of course the answer was yes. Sure, a Hoisin sauce-style would go well, too, but some things just scream "BBQ SAUCE!"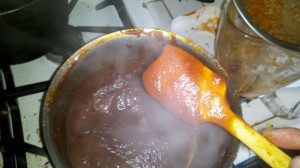 Rather than having a secret family recipe, I prefer to create one from scratch each time and savor the process and result. I suppose one day I'll cook up something with bourbon and bourbon vanillla, but for now today's sauce went something like this. All ingredients used are organic and/or from our own urban farm.
Filled a two-quart pot more than half-way with frozen cherry tomatoes – from last Summer's garden. I poured in about two tablespoons of white vinegar, then put a lid on and ran them on medium heat until they were heated through. Once soft, I mashed them down with a potato masher.
Chopped and added to the tomatoes: one small mild green pepper, one-quarter of a big red bell pepper, and one medium yellow onion. I put the lid back on and simmered it until the veggies were all cooked through.
Put the whole mess in to the blender, put on a lid with the center hole open and covered that loosely with a towel. There will be a burst up of hot blending matter when the blender starts, and it is much less explosive when there is an easy vent (the towel) for the heated air to escape.
Blended until smooth, knowing the skins and seeds won't really blend so don't bother. Ran this all through a fine-mesh sieve, using a silicone spatula to rub the sauce back, forth, around in circles until all the juices ran through the sieve. Scrapped the bottom of the side, and fed the tomato skins and seeds to the chickens.
This sauce base now needs flavor balancing with a focus on sweet-tangy. I put in more salt to taste (less than a teaspoon, we want this sauce to go with salty/savory foods), a few grinds of black pepper, a few shakes of hot sauce, a tablespoon of sweet red paprika (basically roasted and ground sweet red peppers), then the tart and sweet: just less than  1/4 cup of coconut sugar crystals (works like brown sugar), 1/4 cup honey, and just a bit more than 1/4 cup of apple cider vinegar with a few shakes of white vinegar and blood-orange balsamic vinegar. Adjust the sweet-tangy to taste and preference; I ended up shaking in a bit more red wine vinegar, too.
Put a screen lid on top of the sauce and reduced it to almost half of the original volume (very messy). Rebalanced flavors, and it's done.